Following a series of tests performed in 2017 and early 2018, CCE has obtained new certifications for its range of fire resistant drop-down seals. 
In our continuous search to improve the performances we offer to our customers, some of our models have been tested to standard EN 1634-1:2014 and also to standard UL-10C.
This test have been performed without the use of the intumescent strip inside the silicone seal and they have been successful. This means that we no longer need to use the intumescent strip to reach the 60 minutes fire resistance.
The first effect is that the silicone seal remains softer and it's free to adapt better to the floor.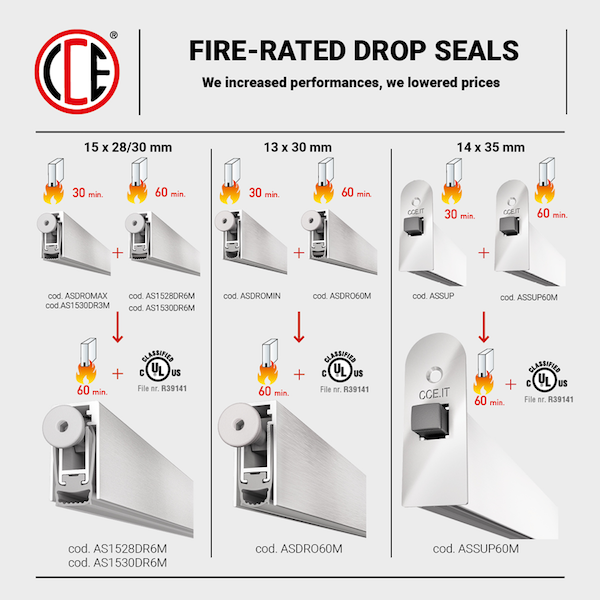 As a consequence of these tests, CCE decided to uniform some of its fire-protection products that was previously presented in the 30 minutes version (without intumescent strip) and in the 60 minutes version (with intumescent strip).
From July 1st, when the new price list goes into effect, models Drop 20 Maxi 15×28 / 15×30, model Drop 20 Mini 13×30 and model Superior 14×35 will be presented only in the top performance of 60 minutes edition with EN1634-1 and UL10-C certification. 
The good news is that the price will remain the same of the 30 minutes edition. 
This means that every customer who bought the 30 minutes version will have improved performances for the same price they always paid.
Customers who bought the 60 minutes version will have the same performances they were used to for a reduced price.